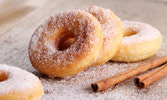 Spudnuts
These light fluffy morsels are packed with flavor that melt in your mouth!
Recipe submitted by Sarah Torsius - Torsius Tater Farms Ltd.
Prep time

2-2.5 hrs

Cook time

1 min/each

Total time

2.5-3 hrs

Servings

18-20
Ingredients

1/2 cup hot mashed potatoes

1 egg beaten
1/2 cup scalded milk
1/2 cup sugar
1/3 cup butter
1 1/2 tsp yeast
1/2 cup warm water
3/4 tsp salt

1 cup flour + 2 1/2 - 3 cups more
Toppings: 1/2 cup sugar and cinnamon to taste
Directions
Mix yeast and

warm water together to proof.


Mix butter, sugar, hot mashed potatoes and scalded milk together in mix master on low-medium or hand mix. (Heat mashed potatoes and butter together if using left-over cold mashed potatoes).


In another bowl, mix yeast mixture, egg, salt and 1 cup of flour together. Beat well.


Add butter, sugar, potato and milk mixture and blend well. Add 2 1/2-3 cups of flour slowly. Dough should be slightly sticky, but very soft.
Cover dough and let rise in warm place (not hot) for 1 1/2 hours.
Punch dough down and roll out 1/2 inch thick on heavily floured surface.
Cut doughnuts with doughnut cutter, keeping the holes. Let rest and rise for 30 minutes before frying.
Heat about 1 inch of vegetable oil in an electric skillet to 375 degrees. Carefully add doughnuts and cook for about 30 seconds on each side or until golden brown. Flip and allow other side to cook 30 seconds. Remove and place on paper towel. Do the same for the doughnut holes.
In a shallow bowl or small casserole dish, mix 1/2 cup sugar with the cinnamon together. Add slightly cooled doughnuts, coat both sides. Enjoy!
Tips & Variations
****Cooking with dough in a warm kitchen is ideal to have a successful recipe.
For glazed doughnuts, mix 2 cups of icing sugar with enough cool water to make a thick glaze. Ensure doughnuts are cooled a bit before you add to the glaze or it will melt. Add doughnuts, using two forks or spoons, flip and cover other side. Add sprinkles or any other fun toppings to each doughnut. Place on cookie sheet.
***Wait until they are cooled before they are stored ( pastry box or in a towel covered container) or they will go soggy.
If you wish to freeze them, place cooled doughnuts on a cookie sheet and place in the freezer until frozen through and then transfer to an air tight container or large freezer bags. These freeze very well.
If you need to add more tips, just add another row above or below
Add some more information here for tips