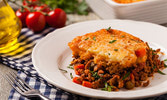 Shepherd's Pie
This hearty dish will keep the whole family satisfied and wanting more!
Recipe by Madelyn Rozendaal - Grand Forks Farms Ltd. (Page 194 - A Potato On Every Plate)
Prep time

20 mins

Cook time

15 mins

Total time

35 mins

Servings

8-10 Servings
Ingredients

1-2 lbs ground beef

salt & pepper to taste
barbeque sauce
4 Cups mixed vegetables
6-8 potatoes, cooked, seasoned and mashed
sliced cheese to topping
Directions
Preheat oven to 350 degrees F.
Brown ground beef and season with salt, pepper and barbeque sauce to taste. Drain and place in a 9 x 13" pan.
Cook and drain vegetables. Layer over meat mixture.
Spread potatoes over vegetables.
Cover with cheese and bake at 350 degrees for 15 minutes or until cheese is melted and golden.
Tips & Variations
Add some more information here for tips
If you need to add more tips, just add another row above or below
Add some more information here for tips