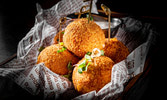 Potato Croquettes
This easy side dish is a great accompaniment with any meal
Prep time

15 mins

Cook time

20-25 mins

Total time

35-40 mins

Servings

6-8 Servings
Ingredients

3 cups mashed potatoes

2 beaten egg yokes
1/4 tsp salt
dash pepper
1 beaten egg
1/2 cup dry bread crumbs
canola oil for frying
Directions
Combine first five ingredients.
Spread mixture on floured board.

When cool, shape into balls, cones or rolls.
Dip into beaten egg, then roll in bread crumbs.

Chill in fridge 1 hour, then fry at 375 degrees ( 20-25 minutes).
Makes about 16 croquettes or 6-8 servings.
Tips & Variations
Serve with sour cream or plain yogurt and chives or your favorite dip.