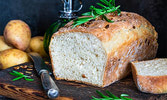 Potato Bread
This moist and delicious potato bread is a great staple for all families.
Prep time

1.5 hours

Cook time

35 min

Total time

2-2.5 hours

Servings

2 - 1-lb Loaves
Ingredients

> 1 medium potato, peeled and chopped
2 -1/4 oz packets yeast
1/2 cup warm water for yeast (not too hot or yeast won't process)
2 Tbsp shortening, softened
2 Tbsp sugar
2 tsp salt
61/2 - 71/2 cups flour
11/2 cups water
1 cup warm milk ( use 2%or 3%)
Directions
Cook potatoes in 11/2 cups boiling water until tender. Drain (reserving 1/2 cup liquid in separate dish) and mash potatoes.
In a large warm bowl, add yeast packets to 1/2 cup of water. Stir and let process until doubled in size and frothy.
Add the milk, shortening, sugar and salt, reserved cooking liquid, potatoes and 1/2 of flour. Mixing thoroughly until smooth. Add enough of the remaining flour gradually to form a stiff dough.
Remove and knead on floured counter or surface until thoroughly elastic for about 6-8 minutes.
Place in a bowl, cover and let rise in warm area for at least 50-60 minutes.

When doubled in bulk, punch the dough down and divide into 2 parts and shape into loaves.
Place into two greased 9 x 5" loaf pans. Cover and let rise again until doubled in size; about 30 minutes.
Bake in pre-heated moderate oven at 375 degrees for 35-40 minutes, or until bread shrinks from sides of pan and golden brown. Remove from pans and place on wire racks to cool.

Makes 2 - 1 lb loaves