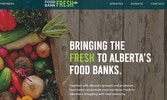 Launch of New Website...
The goal is to build strong programs with Alberta food producers to glean and distribute quality fresh food to everyone accessing food banks in Alberta. The Potato Growers of Alberta will be sending out regular updates on potato requests from food banks across the province.
Click here for more information and how you can get involved.
2019 Canada Hunger Count update