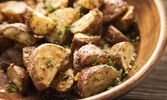 Easy Parmesan Creamer Potatoes
These small spuds are quick and easy that melt in the mouth
Prep time

5 mins

Cook time

30 mins

Total time

35 mins

Servings

4-6 Servings
Ingredients

3 lbs small creamer potatoes (multi-coloured, red or yellow)

2 Tbs olive oil
1/3 cup parmesan cheese - grated
sea salt
pepper
3-4 Tbs chopped fresh chives or green onions
Directions
Preheat oven to 400 degrees F. Lightly oil baking dish.


Cut potatoes in half and place in a large bowl. Add olive oil and stir well to coat. Sprinkle with sea salt and pepper to taste. Add parmesan cheese and chopped chives and stir.


Place potatoes onto baking sheet in single layer and bake for 25-30 minutes, until golden brown.


Tips & Variations
1. You can also leave the potatoes whole without cutting.
2. Add a sprinkle of fresh bacon bits
3. Replace chives with fresh dill
If you need to add more tips, just add another row above or below
Add some more information here for tips