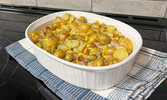 Earl's Warm Potato Salad - Knockoff
Potatoes, bacon, corn mixed in a fresh dill dressing...seconds please!
Prep time

10 mins

Cook time

40 mins

Total time

50 mins

Servings

6-8 Servings
Ingredients

8 slices bacon
3 lbs baby potatoes (creamers)
2-3 Tbsp olive oil
11/2 cup corn kernels, fresh or frozen
1/3 cup green onions, chopped, plus a little more for garnish
DRESSING
1/2 cup mayonnaise - full fat
1/2 cup sour cream
2 tsp prepared horseradish cream
1-2 tsp freshly squeezed lemon juice
2 Tbsp finely chopped fresh dill
Kosher salt and freshly ground black pepper to taste


Directions
Preheat oven to 400 degrees F.
Mix all dressing ingredients in a small bowl, and lightly season with salt and pepper.

Halve the baby potatoes and toss with olive oil. Turn out onto a parchment paper lined cookie sheet and bake for 20 minutes.
Toss corn lightly in oil and add to potatoes. Bake for another 20-25 minutes until potatoes are cooked
In a large frying pan, over medium heat, fry bacon until golden brown and crispy and let cool. Chop into 1/2" pieces and set aside.

Remove potatoes and corn from oven and add to a large bowl. Toss with salad dressing, bacon and adjust seasoning salt and pepper to taste. Garnish with chives and serve.
Tips & Variations
Try multi coloured potatoes for interest. To make a dairy-free salad, remove the sour cream and horseradish cream and substitute same amount for mayonnaise. Canned corn can also be used instead of fresh or frozen.