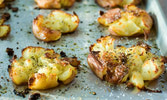 Crash Hot Potatoes
These delicious smashed taters were created by Australia's food write Jill Dupliex.
Prep time

10 mins

Cook time

45 mins

Total time

55 mins

Servings

6 Servings
Ingredients

12 baby potatoes

3 Tablespoons of Olive Oil
Kosher Salt, to taste
Black pepper, to taste
Fresh cut herbs (if desired)
Parmesan, Finely Grated
Directions
Preheat oven to 450 degrees F.


Boil some baby potatoes (I used red) until fork tender


Drizzle olive oil on a baking sheet, set potatoes on sheet and using a potato masher, gently smash each potato down, rotating masher both ways (so it looks like a thick cookie).


Drizzle with olive oil, season with salt/pepper and sprinkle cut fresh herbs and garlic over each. THEN top with some grated Parmesan cheese.


Bake for 20 minutes. OMGoodness... Crispy on the outside, soft in the middle, salty, garlicky, herby and cheesy goodness.
Variations
Place 1/4 pat of button on top of each smashed potato before baking
Top each smashed potato with grated Cheddar before baking