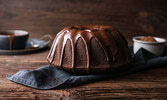 Chocolate Tweed Cake
The secret to this moist rich tasting cake is the mashed potatoes
Prep time

20 mins

Cook time

1 hour

Total time

1hr-20 mins

Servings

10-12 Servings
Ingredients

1/2 C butter or margarine

1 1/2 C sugar
1 C mashed potatoes
3 eggs
1 3/4 C flour
2 tsp baking powder
1 tsp salt
1/4 tsp ground cloves
1/2 tsp nutmeg
1 tsp cinnamon
1/2 C milk
2 - 1oz. squares semi-sweet chocolate, grated
icing sugar or glaze (optional)
Directions
Preheat oven to 350 degrees F.


Cream butter and sugar together until light and fluffy; add mashed potatoes


Add eggs one at a time, beating well after each addition.


Combine dry ingredients and add to potato mixture alternately with milk, beginning and ending with dry ingredients.


Stir in chocolate and spoon batter into greased and floured bunt or tube pan.
6. Bake at 350 degrees for 1 hour.
7. Cool pan 10 minutes.
8. Remove from pan. When cool, dust with icing sugar or drizzle with glaze, if desired.
Tips & Variations
Add cherries and whip cream for a Black Forest flavour or sprinkle top with nuts or coconut.
If you need to add more tips, just add another row above or below
Add some more information here for tips