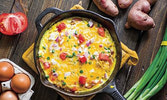 Breakfast Fritatta
This dish is very flavorful and extra nutritious by adding potatoes!
Recipe Submitted by Megan Buyks - Upper Green Farms ( Page 228 -"A Potato On Every Plate" )
Prep time

15 mins

Cook time

8 mins

Total time

10 mins

Servings

2-4 Servings
Ingredients

3 Large eggs

2 Tbsp water
1/4 tsp salt
1/8 tsp pepper
1/2 Cup shredded potatoes
2 Tbsp red bell pepper, chopped
1 green onion, thinly sliced
1/4 Cup shredded cheddar cheese
Directions
Using cheese grater, shred cheese and potatoes, set aside.


Whip together eggs, water, salt and pepper until frothy (or use a food processor).


Combine egg mixture with potatoes, peppers and green onion. Pour mixture into a lightly greased frying pan on medium heat.


As eggs set around the edge of skillet, with spatula gently lift cooked portions to allow uncooked egg to flow underneath. Cook until bottom is set and top is almost set (about 6-8 minutes).


Sprinkle with cheese and cook covered for 2 minutes.
Tips & Variations
Instead of using a frying pan, use a tupperware breakfast maker. Combine all ingredients and cook in microwave for 2.5 minutes.
You can also add ham, sausage, zucchini, tomato, mushrooms or other spices to taste.